Since I posted this picture on Facebook and announced that my husband and I have lost about 135 pounds between the two of us, I've gotten several questions from friends asking for details, how we did it (Sometimes I like to tell people 'Oh, you know, laxatives! And an occasional amphetamine.'), and how we use our Fitbits. I hope to answer some of those questions here! Today's post is all about the Fitbit and how I use it and its app. The next post will be more about my actual diet.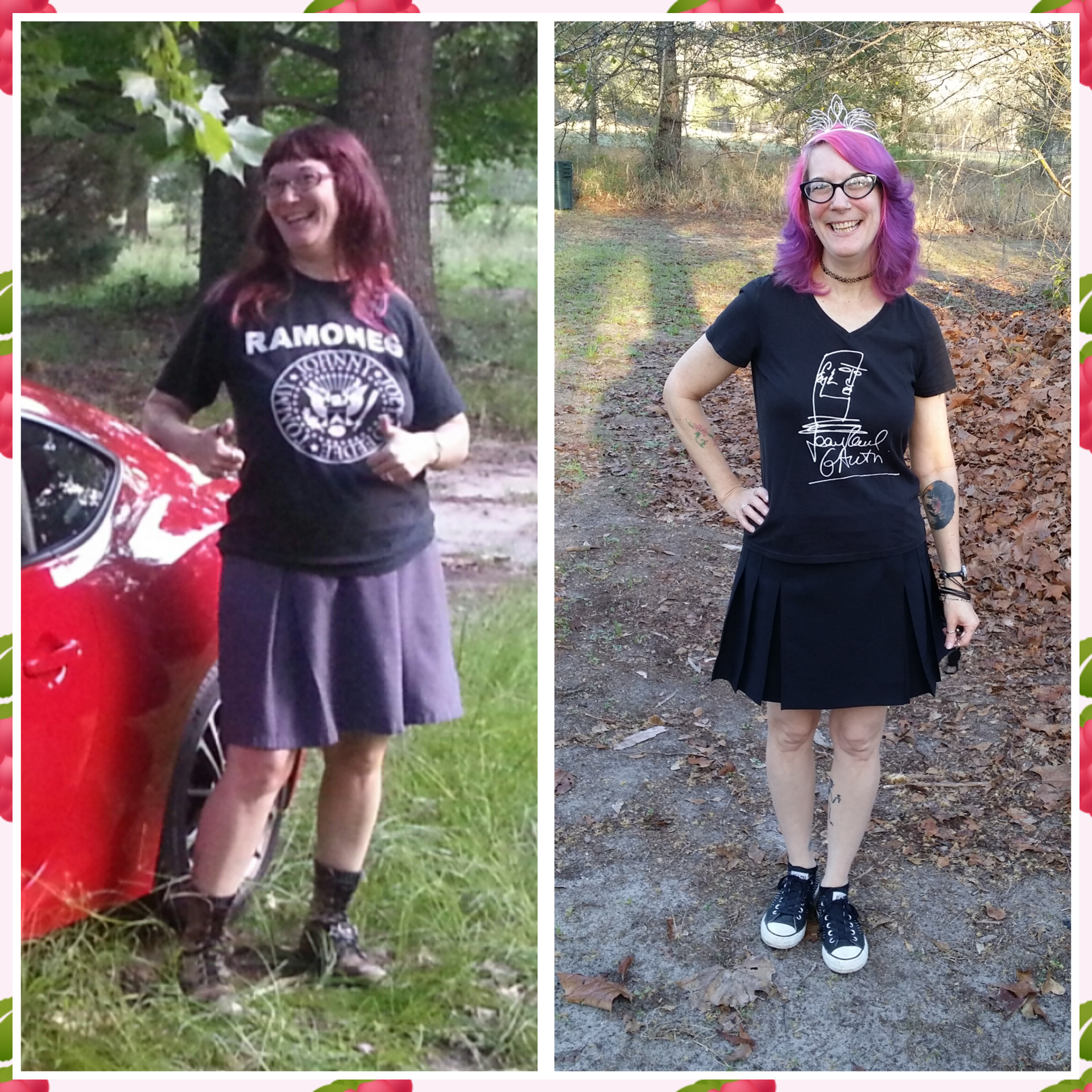 My Story
Over the past year or so, I've dropped more than 45 pounds! And if I can toot my own horn (And it's *my* blog, so I can!) I think that's kind of amazing for me. I came by my weight gain honestly. As I became an adult, I just slowly gained weight as I drank more beer and ate crappier food. It creeped up on me, and it wasn't a big deal. I didn't have a bathroom scale for years, and when I realized that I had hit 140 right before my wedding I kind of panicked. Then I lost a few pounds, and when I hit 150 I panicked again. I lost a few pounds again, and this cycle continued until 169, my absolute maximum weight ever.
So for ten years I've been on and off the weight loss wagon, always losing ten or fifteen pounds, then gaining back even more before long. It wasn't until Chris joined me in my weight loss journey that I was really able to get a foothold and start making the pounds come off. Him being the head chef around here, I needed him on board to ensure low-calories meals all day long, and not just during the day when I was on my own. The best part about that is that he's lost about ninety pounds himself!
My Fitbit
So as a goal-reaching treat I've bought myself a new Fitbit. This ole beat up one has seen me through three years and 5.1 million steps and countless calories in and out. The new one will ring in a lifestyle of caloric moderation, weight maintenance, and some strength training.
So let's talk about the Fitbit for a bit.

I have always used one of the Fitbits that ride on my waistband. I don't care for the look of the wristband pedometers on myself, and I've read that not only are most pedometers pretty inaccurate, but the wrist-worn ones appear to be the worst. Yes, most pedometers are inaccurate at best! Yet mine has helped me lose a third of my body weight! I think it's all about consistency there. Because I wear mine every day, I recognize things like I shouldn't wear it when I'm riding my bicycle because I get a crazy ton of non-steps logged as steps.
Steps
The main function of your Fitibit is to simply count your steps. Simple enough. And that's how I started my weight loss: by setting a step goal and doing whatever I could to reach that goal daily. I still do it! Along with the other common tips that you hear about gaining steps such as parking in a far corner of the parking lot and such, I walk laps around the conference room at work. I jog in place while I'm at the copy machine. I may look stupid, but I feel great! And who's the one looking stupid in the long run, eh?! While many people get most of their steps in in one fell swoop during a morning walk or on the treadmill, I like to spread mine out. I made a little chart that shows me how many steps I need to accumulate every couple of hours in order to meet my step goal at the end of the day. Make sure you put your daily step goal into your Fitbit Dashboard!
Fitbit Online
You *do* use the Fitbit Online Dashboard, right? Not just the app on your phone. The app is great, and it's getting better, but there are so many more tools in the online version. To add or change your step goal, logon fitbit.com and hover over the Steps box with your mouse. Click on the gear icon, and edit your daily step goal from there.
The Fitbit Diet
Once I was hitting my daily step goal fairly regularly, I began dieting. It wasn't a 'lifestyle change'. It was a diet. A diet to lose weight. I ain't ashamed. It worked, and now my lifestyle *has* changed, but it didn't start out that way. Remember that everything I've done has been an evolution of diet and exercise. I set a moderate goal at first. It was realistic, and at a pace I knew I'd be happy with. And here's where the Fitbit tools work amazingly for me.
To set your weight loss goal, go to the dashboard online, hover your mouse over the weight widget, and click the gear icon. Click in the Goal Weight area and you will be walked through the goal setup. You tell Fitbit what you want to weigh, and it will give you options about how fast to lose those pounds. My humble advice is at first to not look at the projected dates for when you'll reach your goal. Start off with minimal weight loss and wean your way into hardcore loss if you like. When you do, go back to the dashboard and click the settings button again.
From there it's calories in versus calories out. Every day Fitbit will tell you how many calories you can eat based on how many calories you burn throughout the day. And this is where I love the Fitbit more than anything: You can *earn* food throughout the day. Just like a lab rat! The more exercise I log and the more steps I get in, the more calories I am alloted, all while keeping within my weight goal caloric budget. I love this! I will totally walk ten more laps around the conference room in order to eat a little piece of chocolate. Again, I ain't ashamed.

Logging Your Intake
Now comes the pain in the ass part: Logging your calories. Every day, every meal, every time you put something in your mouth, you need to tell your Fitbit about it. This is time consuming. This is fiddly. This is a dance of estimating how many calories are in the pancakes you make at home as opposed to the pancakes at IHOP. And sometimes you have to fake that shit. But it is all worth it!
To log your calories on the app, open the dashboard, click the area where you're told X in/Y out, and use the icons in the top right corner to either log your food by scanning the barcode of the item, adding miscellaneous calories, or searching for a food to add. To log your calories online, open the dashboard, click the X cals left to eat box, click See More in the bottom right corner, then at What did you eat? start typing in the food that you had. Fitbit will do the searching for you and allow you to adjust the quantity and such.
It is so important to be consistent and log your food. Even if you've over eaten that day, it helps give you an idea of what kind of calories are in the foods you eat, and this leads to the evolution of your diet. This is another area where it helped to have Chris on board with our weight loss. We talk about what we've logged, and he helps me count up the calories in the meals he makes at home. Because my chef is tracking calories, it's much easier for me to as well. Logging your food is *so* eye opening. You may think, 'Oh, I haven't really eaten anything today.' But you've had a cup of coffe with cream and sugar, half of a granola bar (We'll talk about the health halo in the next post!), and have grazed on various stuff from the fridge. Those things really add up, so count them! Again, yes, it's a total pain in the ass. I really do understand that. But you get used to it. And you may find that you eat similar foods often enough that they are easier to find in the app and such.
I hope this has answered some of your questions about the Fitbit and its apps. I am happy to answer any more specific questions that you have! Send me a note on Facebook or post a comment here. I'll do another post in a couple of days about my diet, how it evolved, and where I'm at now with my meal planning and eating habits. Thanks to you, my friends, for your encouragement and cheerleading about my weight loss. I've never felt better!