So I did it. I slugged back a couple of ciders and I cut my wedding dress. And it wasn't that bad. I thought it might even feel good, but it didn't. In the end, it was just fabric. I always knew that logically, but it wasn't until I took the shears to it that it just felt like fabric to me.
So I cut the bodice of my dress at the top from about the third grommet down on the corset back, around to where the black overlays the pink on the front of the dress.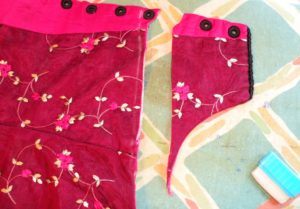 I cut off a lot less than I needed to at first, then whittled my way down to what needed to be removed. I then cut out three layers from the halter top pattern that I made – two in the pink silk, one from the black organza. I only had two sleeves worth of organza, so I had to scrimp on that, but I had tons of pink silk to work with because I hacked off the bottom of the dress for fabric! After cutting the bodice, it was easy to cut off the wedding dress to the length that I wanted. And oh my, does that silk cut like butter! Sooooo smooth and sultry. I might be working with this fabric again in the near future!
I sewed together one side of the halter top and turned it right side out. Because the bodice is multi-layered, I turned down the inside and outside layers of the fabric and sandwiched the new halter piece in between. I pinned it, ironed it, and sewed it up. It didn't look too bad! So I repeated everything on the other side.
There are definitely a couple of wonky places, but I don't think it's too bad for an amateur. I've sewn so many costumes that I've learned to not give a crap about little boo-boos. I can also hope for a pretty dark 'party atmosphere' at the reunion dinner.